Music Ministry
Our Worship Team Needs - Keyboardist & Drummer
Do you have experience playing drums or keyboard (or piano) in a band? Looking for some place for God to use your talents? BBBC is looking for a new drummer and keyboard player for our worship band.

We encourage you to look at our church, our beliefs, and consider making a commitment to our church. If you'd like to get more information, please contact Steven Hasty, our Music Director, at steven@bbbchurch.org.

We hope to hear from you soon!
BBBC Praise Team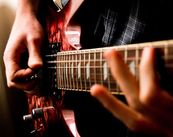 Do you feel called to play an instrument or sing in Journey (our youth program) or our Sunday services? Contact​
Steven Hasty
, our music director.
The Lord has blessed Brazos Bend Baptist Church with a great worship experience in music and several outstanding instrumentalists to accompany praise songs. The Psalms declares to us that we should praise the Lord with "everything that has breath." Our church believes in a service with both contemporary and traditional (hymns) music played within the same service; we don't split up based on music preferences.
Steven grew up in the church and has been leading worship for the youth since 2003. He became the Music Director in October 2005. His wife Krista also sings in the praise team, and has been doing so since 2006.
His favorite bands are: Shane and Shane, Phil Wickham, and Chris Tomlin.